Black Gospel Radio Disclaimer
Black Gospel Radio is one of the most listened to Internet Gospel Radio stations. A common question we often get asked is why do you do what you do and why is it free?
This page answers "How Is Black Gospel Radio funded" and why it should matter to you.
Why is Black Gospel Radio Free?
As a beginner or small business, you often don't have a large budget to spend on tools and resources to enhance the listening experience. However tools and resources are crucial for success.
We started Black Gospel Radio in 2004 with a single goal: to provide the best listening experience of the great gospel music genre of music to the world. We wanted to offer the world great gospel music especially those who don't have terrestrial gospel stations in their locations.
How Is Black Gospel Radio Funded?
In an effort to be transparent with our listeners, we want to build a community that helps us stay alive.
Black Gospel Radio expenses include stream hosting, streaming data, website hosting and maintenance, software, administrative costs, Neilson BDS monitoring, royalties and licensing, music and more totaling around $750 per month. These expenses continue to grow as our listenership grows.
Running a radio station that reaches thousands of users daily with great gospel music requires significant investment. Both on the server infrastructure part as well as on the on-air content.
Our team curates music and content so we need to make money to keep that afloat, otherwise we would have to shut the station down. Below are two primary sources that fund Black Gospel Radio.
Advertising / Promotion on our station, website and social media.
We have created several packages that serve to expose and grow your music, business or ministry.
When you purchase advertising or music promotional packages, it helps us fund Black Gospel Radio and keep this music ministering everywhere. Become a part of what we're doing by contributing in some way.
We really appreciate everyone in the Black Gospel Radio community who use and support our station. Thank you.
Referral Fees
We earn referral fees when you buy services from companies that we recommend.
We only recommend products that we believe will add value to our listeners.
This monetization method is called affiliate marketing. The biggest brands on the internet offer affiliate programs such as Amazon, eBay, Google, etc. Many of your favorite sites use affiliate marketing to pay the bills.
The only difference is that not everyone tells their users how they make money.
Sometimes you will see banner ads like these: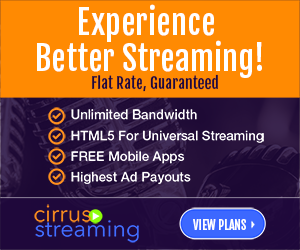 Other times, you will see a special link unique to each website that track referrals such as:
https://manage.abovecast.com/aff.php?aff=78
When you click on these links, you are tagged with a special cookie to track the referral. If you end up buying the product, then they pay us a referral fee.
The referral fees vary for each product. For a song you buy on Apple Music, we might earn 10¢. For a professional microphone, we might earn $5.
Question #1 – Will it Cost Me More Money?
No, absolutely not. In most cases, our deals will actually save you money.
Because Black Gospel Radio is a popular website, a lot of vendors offer our readers exclusive discounts.
Question #2 – Do You See My Personal Details?
Nope. We don't see any personal information i.e name, email, address, credit card, etc.
The only thing we see is that an anonymous user made a purchase on date/time and which product they bought.
How Can You Help Us?
Radio stations and websites like Black Gospel Radio take a lot of investment to operate.
We have a dedicated team of radio personalities, administrative professionals, tech experts, radio show hosts, contributors, writers, and editors. That's why we need your help.
Below are few ways you can help us:
Purchase music from our music store.
Become a patron and give a once a month donation! Go to BlackGospelRadio.net/Support for info.
If you're thinking of buying a product, then please buy it using a Black Gospel Radio referral link.
If you download a song or album that we recommend, then please leave your review in the comments to help others.
Spread the word by sharing Black Gospel Radio with your friends and family on Twitter, Facebook, LinkedIn and Instagram.
Why Should You Help Us?
There are lots of gospel radio stations out there playing gospel music, but few offer the diversity and consistency, deep library and support of great independent artists of the level of content we offer.
At Black Gospel Radio, we are all about the the listener experience.  We love this music and want to provide listeners and supporters with the best experience that helps to bless, inspire and encourage you in your daily walk and  maintain your relationship with God.
If you've been blessed, inspired and encourage by your experience on our station or website, we hope that you will help support us, so we can continue working towards our mission.
Thank you for support.
Robyn McCollum
Founder of Black Gospel Radio
robyn@blackgospelradio.net